Summary
Guaranteed lowest priced Framed. One Share of Disney. (Stock Symbol: DIS) is a Truly Unique Gift. Birthday, Baptism, Christening, Anniversary, Newborn, Groomsmen gifts and more. Give a Single stock of Disney. We are members of the Better Business Bureau and have been in business since 1999.

The Perfect Last Minute Gift!
A Free Custom Gift Announcement Email with every order- Print at Home
Information about the Disney stock certificate. Pictured is the version of the paper stock certificate provided to Disney shareholders from 1980 until 2013. At that time Disney opted for paperless elctronic ownership for their shareholders.
Engraving Examples
Mat Color Examples 
Light Blue Mat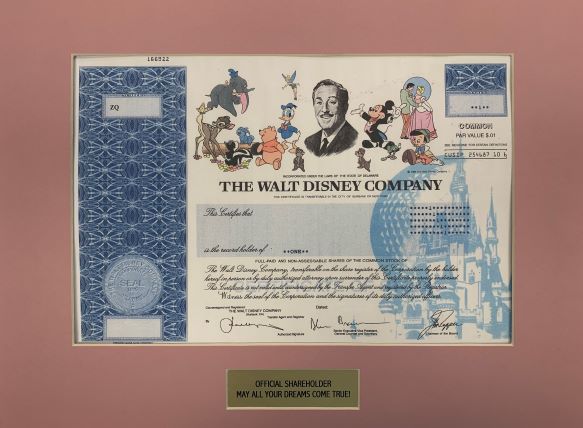 Pink Mat
Navy Mat
Hunter Green Mat
Black Mat
This company has currently opted for electronic ownership only. For this selection you will be shipped a high-quality REPLICA of the company's former stock certificate. The replica will display the gift recipient's name, address, and certification of ownership of one share of the company selected. The replica will be identical to the one displayed on our website. The share purchased for the company selected will be held in book entry. Your gift recipient will receive a shareholder packet showing their ownership of one share of stock from the shareholder services of the company selected. The packet will also provide their unique account number. *Processing times to receive the account information packet at their shareholder address vary- usually 3-8 weeks from when your order is placed. Please see our FAQs for more information about processing times and to see how the book entry process works.
Note...we highly suggest that you select one of our rush options if a specific time is needed for gift presentation.
UniqueStockGift.com is a gift website that provides a unique gift by allowing customers to easily and affordably buy a real share of stock as a gift. Although this is real stock, we do not market our product as an investment nor do we in any way provide investment advice. UniqueStockGift.com is not a registered broker-dealer and carefully follows rules established by the SEC for a novelty stock gift company. We recommend that those looking for an investment contact a financial advisor or registered broker dealer. UniqueStockGift.com is a gift website owned by UniqueStockGifts Inc. All names and logos displayed on this page are owned by their respective organizations and appear for informational purposes providing the history of their company stock certificates. Also information is provided about the respective company's current status of transitioning to paperless stock ownership.