Summary
Guaranteed lowest priced Framed. One Share of Dunkin Brands sold at Exxon Mobile locations  (Stock Symbol: XOM) is a Truly Unique Gift. Birthday, Baptism, Christening, Anniversary, Newborn, Groomsmen gifts and more. Give a Single stock of Dunkin Brands! We are members of the Better Business Bureau and have been in business since 1999.  Dunkin' Donuts, colloquially known as Dunkin', is an American multinational quick service restaurant chain based in Canton, Massachusetts. It was founded in 1950 by William Rosenberg in Quincy, Massachusetts, and is one of the largest coffee and baked goods chains in the world, with more than 12,000 restaurants in 36 countries.  Dunkin Brands is now part of a privately held company called Inspired Brands.  The aquisition was completed in December 2020.  For this selection the Dunkin Donut lover will receive the replica Dunkin Donuts replica of the former Dunkin stock certifciate shown along with one whole book entry share of Exxon Mobile stock.  Dunkin products are available at many Exxon Mobile locations.
Engraving Examples

Mat Color Examples 
Light Blue Mat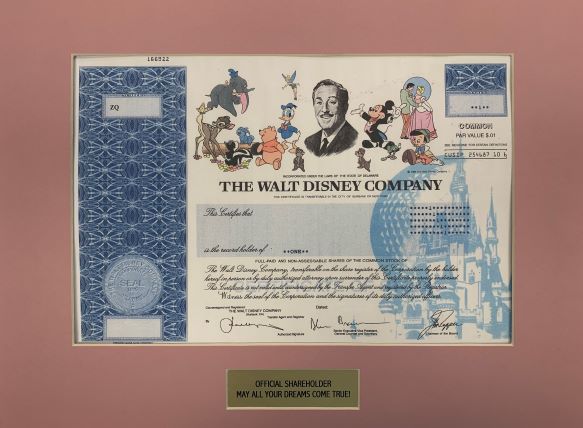 Pink Mat
Navy Mat
Hunter Green Mat
Black Mat
Dunkin Donuts Exxon Mobile
This company has currently opted for electronic ownership only. For this selection you will be shipped a high-quality REPLICA of the Dunkin company's former stock certificate. The replica will display the gift recipient's name, address, and certification of ownership of one share of Exxon Mobile where Dunkin Brand products are sold. The replica will be identical to the one displayed on our website. The share purchased for Exxon Mobile will be held in book entry. Your gift recipient will receive a shareholder packet showing their ownership of one share of stock from the shareholder services of Exxon Mobile where many Dunkin Brand products are sold. The packet will also provide their unique Exxon Mobile account number. *Processing times to receive the account information packet vary. Please see our FAQs for more information about processing times and to see how the book entry process works.
Note...we highly suggest that you select one of our rush options if a specific time is needed for gift presentation.